Financial Advisors & Planners...
Is Your Business Running You? Do You Realize That You Need A Plan, But It Never Gets Written Because You HATE Creating Your Own Plan?
Our Killer Success Roadmap Puts Laser-Focus On Your Vision and Goals and Motivates You To Take Action. It's Planning On Steroids that Leads To Your Business Running Like a Swiss Watch!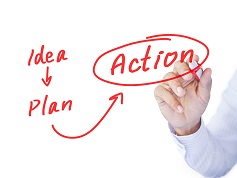 I haven't met an advisor yet, who didn't tell me that they know they are supposed to have a business plan. Advisors know the importance of planning, after all you create plans for your clients. But most often, they don't have a document stating their vision, goals, strategies, nor an action plan for achieving those goals.
How do you expect your clients to take action on their plan, if you haven't gone through the planning process yourself?
The plan we help you create, will pay dividends well beyond the time and money you invest to create it. This is NOT a plan to garner funding. This is NOT a 40 page plan that will take up space on your shelf. It IS a practical, proven growth planning process that will drive a year's worth of increased productivity to you and your firm, in just a few hours.
It is a plan that inspire you to be excited about the work that lies ahead. It is a plan that keeps you focused, helps save you time, and keeps you from making mistakes.
This live webinar or Skype program is guided by Maria Marsala--former Wall Street Retail Trader and now a coach to financial advisors--takes you through a streamlined process powered by the One Page Business Plan®. You'll create a business and marketing plan rolled into ONE, a hyper-focused document that you use daily! It's short-term planning that helps build long-term results. You leave the training with your 12-month business and marketing plan -- DONE and ready to use.
What You'll Accomplish
Spend this day working on your business without interruption to draw up your business roadmap, highlight cost and time inefficiencies, determine your marketing strategies and streamline your operations -- on one piece of paper. Start executing your plan the next day
This day will make a BIG difference to your business as you develop clear strategies and ideas on how to move your business forward for focused results.
You'll leave this program with peace of mind, knowing that your best ideas are written down.
You'll take your best ideas to the next level, where you want them to be, with Maria's help.
You'll have more time to market to new prospects while servicing existing clients.
Your marketing -- online and off line -- will be consistent and reach more of your ideal clients.
You'll be sure about HOW to grow your bottom line.
You'll have tangible actions outlining the priorities that will push you forward more quickly -- and help you tackle your many tasks more efficiently.
You'll get better referrals because your clients will know what you do and for whom you provide the best value.
Your team will have a written guide to help them do their jobs better and help you manage the company (so you can take some much needed time off).
Mark Your Calendar
Date: Friday, April 25, 2014
Time: 8am-3pm PST / 9am-4pm MTN / 10am-5pm CST / 11am-6pm EST
Where: Online, hands-free, from the comfort of your home or office
Other: Includes breaks during the day to put your plan online, eat, call Maria for clarification, and whatever!
"Because I'm a numbers person, I've always had trouble with the "writing part" of planning and setting aside enough time to write a business plan. I knew I needed to have a plan on paper, not just in my mind.
When Maria offered a ONE page business and marketing planning process that could be done in ONE day, I knew that could do THAT much! While preparing for the workshop, I realized that I was in a stagnant place and needed to do new things, including niching, to bring in new business.
I have a better feel for . . . important things I had never really thought about. Maria made the one-day process so easy and straightforward. I had NEVER consistently marketed before, but Maria and my business plan gave me STRUCTURED GUIDANCE. Maria showed me how to create a one-year vision, a five- to ten-year vision, then an exit vision for eventually leaving my company. I have a better feel for what I need to do to grow, to decide when I want to retire, and evaluate whether I'm building my business so I can sell it or turn it over to somebody else to run--important things I had never really thought about.
My customer base increased 10% after years of only 2% growth. I updated my website to target my ideal clients and created a newsletter, which my clients and prospects appreciate! My web traffic has increased by 20%." Read more about Monica's results after attending this one-day program here
Complete our Application online:

Who Should Attend?
This program will be kept small. Once 10 advisors and business owners join us, we'll close the group. Join us if...
You're an experienced financial professional: Financial Advisor, Financial Planner, Family Advisor, Wealth Advisor, Independent RIA, Life Insurance Rep, Bank Planning Department, Money Manager, Broker, Accountant, CPA, etc. We have limited availability for business owners who are not in the financial industry.
You're ready to serve more clients.
You're ready to increase your income, work fewer hours, and have a strong impact on the lives of others.
You want to create processes that make it easier for your team to manage your business.
You are open to new ideas -- and coaching!
You think ahead and realize that you need to outline a plan for creating a turn-key business (even if you're not leaving your business for 5-15 years).
What We'll Cover
You'll thoroughly assess the current state of your business.
You'll create a vision statement about where you want your business to be a year from now.
You'll create a succession statement about what you want your business to look like when you leave it down the road.
You'll develop a positioning statement that allows your clients and staff to understand why your business exists.
You'll define how to spend your marketing dollars/time and determine your revenue expectations.
You'll create a roadmap for action with timetables and milestones.
Here's What You Get
Business Checkup & Assessment: Quickly evaluate your business in less than 20 minutes when you complete these two assessments. A $199 value.
Business Development Consultation: A strategic consultation 7-14 days before the program starts. We'll send you 2 assessments to complete prior to your session. A $500 value.
Strategic Planning Webinar: Get a one-hour video overview of the process. A $79 value.
Workbook: We'll mail you a workbook that fits your business type. We'll include other templates -- such as mini-sales budgets, sales calculators, performance scorecards, and sample plans, too. A $35 value.
Plan in the Cloud: You'll use online templates during the class to develop a draft of your plan before the program and take it up a few levels at the event. A $200 value.
Business & Marketing Plan Workshop: A 7-hour webinar workshop to get your plan done! A $1,299 value.
Exclusive Access: You'll have 7 days (starting the day after the workshop) to email Maria questions about YOUR plan. You will receive a private email address to connect directly with Maria. A $250 value.
Total Package Value: $2,562
Your Investment: $1,299
See Why Maria's Clients Call Her Generous!
As a financial advisor, you assess each client's risk tolerance. Providing a strong investment strategy while managing risk delivers tremendous value to your clients.
Maria shares your philosophy.
Ensuring your success with this proven system PLUS all the extras is what drives Maria to offer programs of this caliber at such a tremendous value.
Maria knows when you create your plan and use it; you'll see a great return on your investment from having worked with her and this killer process. And you'll want more resources, tools, and guidance from her as you execute your plan and grow your business.
Just ask yourself this question: If I had a really concise plan, more time to meet new prospects, and better direction for my team--how many more AAA clients could I gain per month?
The resources, tools, and exclusive 1:1 access to Maria are all you need to create your business growth plan for 2013 and beyond.
$1,299 includes everything mentioned above. We also have a 2-pay at $700/month fully payable at least 14 days prior to the start of the program. (No refunds given due to all the resources we're providing.)
Here's what leading financial industry executives say about The One Page Business Plan®:
"It is too easy to get wrapped up in the market and lose perspective -- you are in business for yourself. For the last ten years I've had a One Page Business Plan to stay focused. Wow! What a great tool!"
- Ralph Miljanich, Sr. VP, Morgan Stanley
"The One Page Business Plan® uniquely simplifies the complex. It motivates, focuses and inspires - all on one page. The user friendly format makes this a necessary tool for any financial professional who wants to build a successful business."
- Ryan Beck, Executive VP, AXA Advisors, LLC
What To Do Next?
There's never a reason to procrastinate. The time for action is now. Complete the application form below. Maria will schedule a call to answer your questions before you make a final decision.
*NOTE: Upon payment and receipt of 2 assessments, we'll schedule your 1-hour business coaching session and send you your assessments, CDs, and other resources mentioned above. Due to the nature of this program, there are no refunds available.
Complete our Application online: